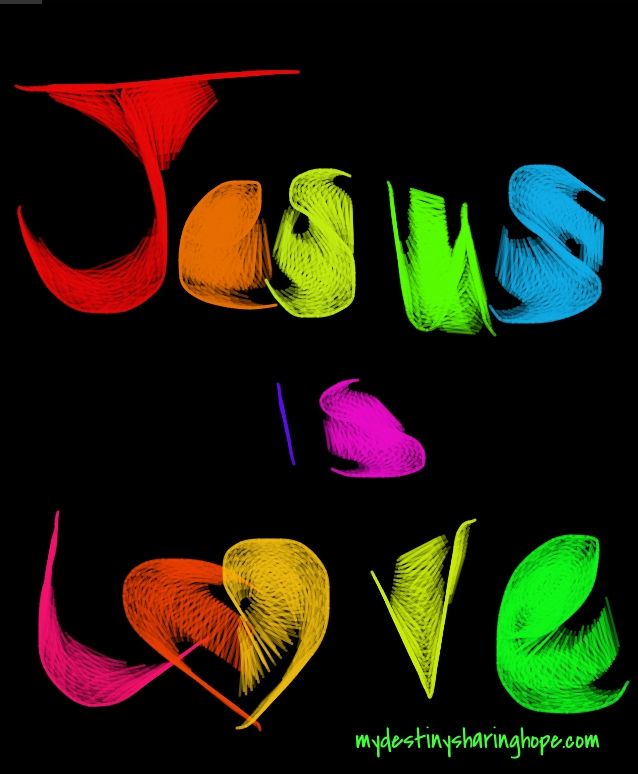 I am going to stick my neck out here and share something that a lot of people miss.
GOD LOVES YOU!
Yes, He really does LOVE people!  He isn't just sitting on His Throne waiting to throw the gavel down and pronounce horrible judgment against you.  Don't get me wrong, a day will come for those who haven't given their lives to Jesus to face judgment, but God is FOR you and created you to worship and have relationship with Him.  He doesn't want any souls to go to hell because it wasn't created for people, but for the satan and his demons.
2 Peter 3:9
The Lord is not slack concerning His promise, as some count slackness, but is longsuffering toward us, not willing that any should perish but that all should come to repentance.
I want to share something that might shock some of you.  I often see postings of Christians on FB who really do love the Lord and are out trying to make a difference for the Kingdom, but they seemed to be filled with anger.  Perhaps they feel it is a holy anger, but something within me usually cringes when I see stuff like that.  It doesn't seem to reflect the heart of the Father.
I want to share something with you that happened a few months ago.  I may have mentioned on here that God had given me an encouraging word for a young man at a local clothing store, but I didn't share all of the details.  I feel compelled to share it all because it might open someone's eyes to God's heart towards people.
As I mentioned, I was in a local clothing store.  Immediately my attention was captured by a very flamboyant young man (I'm guessing around 20).   He was very handsome, but wearing jewelry like a woman and had more feminine gestures then most women.   He was literally prancing around from one rack of clothes to another — telling an older guy what style he liked.
I couldn't get him out of my mind and I began to ask the Lord to revel Himself to this young man.   After a while I ended up in a long line behind him.  I asked God if He would give me a word for this young man and I promised that IF He did — I would give it.   I kept trying to get this young man to catch my eye, but he squirmed as if my presence was uncomfortable to him.  God did give me something!  He showed me a picture of a young boy sitting in the floor with jacks all around him.   Immediately I tried to discount what I had seen because I "reasoned" that the boy was too young to play such an old fashioned game.   I decided to ask the Lord what the jacks represented and He told me.  I got really excited and put out a fleece.  I said, "Father, if You want me to share this with this young man, have him look me in the eyes."   FINALLY after standing in line a great while the man and the older man went to the next available cash register.  It was THEN that he looked up and locked eyes with me.  YAY!!!!  I knew God was going to make a way.   I went to another register while they were stuck with a price-check.   I made it out before him and paced the sidewalk just waiting for him to exit the store.
After what felt like a lifetime, he came out — ALONE.  I don't know what happened to the man purchasing his clothes, but he didn't exit with him.   I said, "Excuse me.  May I talk to you a moment?"  Thankfully he came over without a hesitation.  I continued, "I don't normally call strangers over to me, but when I was behind you in line – God gave me a vision of you."  His eyes got really big.  I shared how I saw him as a young boy sitting in the floor with jacks all around him.  I asked him if he even knew what jacks were and he said he did.  I then said, "I asked God what the jacks represented and I heard, 'Broken pieces.'"   I said, "God wants to heal ALL of the broken pieces in your life!  Does this make sense to you?"  His eyes teared up and he said it did.   I proceeded to share how much God loved him.    I had him hug me since I was old enough to be his Mama (and I felt such a Mama's heart for him).  Just from the pieces God gave me and the feeling I had seeing that picture of him as a child — I really felt he had been abused.
After we hugged, he ran off saying how I had made his day!
Only God knows what those words of life did for this young man.
Yeah, we all know when we are sinning don't we?  Not one person reading this post can cast a stone because none of us are without sin.  It is ONLY by the blood of Jesus that we are righteous and saved.
Isn't God awesome?  If I had approached that young man in ANY OTHER WAY, he might have shut me down.  Who knows what type of reactions he has received from Christians.  God did every bit of it and planted a seed of love in his young, wounded heart.
1 John 4:7
Beloved, let us love one another, for love is of God; and everyone who loves is born of God and knows God.
They will know we are Christians by our love.
Remember this when you are out representing the God who loves the brokenhearted.
Psalm 147:3
He heals the brokenhearted
And binds up their wounds.

Isaiah 61:1-3
"The Spirit of the Lord God is upon Me,
Because the Lord has anointed Me
To preach good tidings to the poor;
He has sent Me to heal the brokenhearted,
To proclaim liberty to the captives,
And the opening of the prison to those who are bound;
2 To proclaim the acceptable year of the Lord,
And the day of vengeance of our God;
To comfort all who mourn,
3 To console those who mourn in Zion,
To give them beauty for ashes,
The oil of joy for mourning,
The garment of praise for the spirit of heaviness;
That they may be called trees of righteousness,
The planting of the Lord, that He may be glorified."
I pray this did some perspective tweaking.  Don't get me wrong — I am NOT calling evil good.  God's Word doesn't change, but His heart is for people.  He sees all and wants to bring healing.
God bless you all!