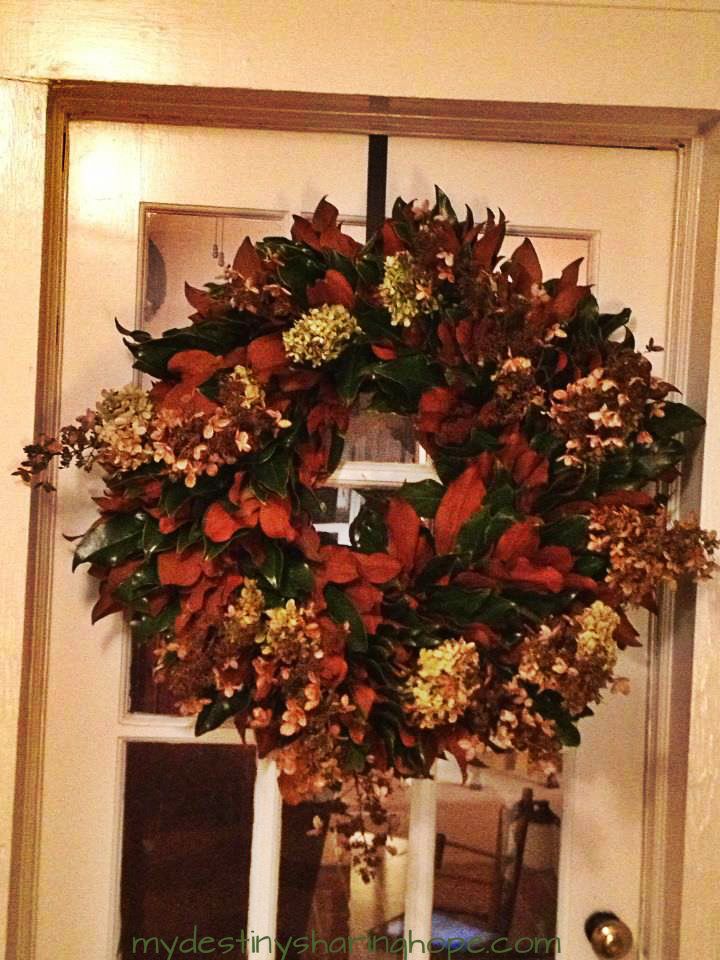 How do you like my beautiful new wreath?
Lovely isn't it?
One of my sweet friends ordered this wreath for me back when my parent's died.  She wanted to do something for me since she couldn't attend the funerals.  The person who made the wreath had to wait until she had the Magnolia leaves, etc …  As you can see, it was well worth the wait.
After my friend delivered my beautiful present, we played some UNO with my daughter, ate supper, and then ….
Sigh, yes — she introduced us to a new game to play on my iPhone (and my daughter on the iPad).  And for you Android users — you can play too!
You can see by it's logo that it is named Draw Something.  You have to play the game with others.  (It sort-of reminds me of Pictionary.)
It provides 3 different prompts of a picture to draw.  Once you choose what you would like to draw you become the artist (ha).   Draw the picture with the tip of your finger — send your friend a note if you'd like — then you sit and wait for them to figure it out.   Your friend might not pick up their phone to play the game until the next day, but when they do this is what they might find:
I wish I had thought to copy some of my own drawings last night when I was playing with three friends.   (I found this drawing here.)    Oh, did I mention it is FREE?  It gives you the option to purchase additional ink colors to draw with, but it automatically comes with black, yellow, red, and blue.
As you can see from the photo above that it provides letters for you to choose from (like Scrabble).  There were 5 empty spaces where Elvis was filled-in.   Cute eh?  Of course, our drawings haven't looked nearly as good.  Our pics look more like the photo below (found photo here):
I wish I had taken a picture of the "bullet" my friend Maegan drew for me.  It was shaped like a light bulb and she wrote BANG by it.   Ha Ha.  What?  A grenade?  A balloon?  I finally figured it out (only because she wrote BANG).
I just thought I'd tell you about it since I enjoyed it so much last night.   If you would like to play along with me — let me know and I'll tell you how to find me.   It will be fun!
Have a wonderful Monday everyone!   
Please remember to pray for this country, Israel, and our world.