This will be a different post for me, because most of what I want to share will be on the video links that I am attaching.
I couldn't believe it when I talked to some friends yesterday and they had never heard of DayStar!   I just assumed everyone watched the DayStar Television Network!  If you have satellite or cable — you must have it!  Marcus and Joni Lamb are the owners of this Christian station.  Joni has a morning show called Joni's Table Talk.   Unfortunately it only lasts 30 minutes, but she interviews some awesome guests!
Yesterday she interviewed Howard Storm.   Howard wasn't raised in a Christian home, but was introduced to Jesus as a child.  He attended a little church for a short time and learned just enough to plant some seeds.  As he grew older those seeds were choked out by the hypocrisy he saw in Christians.  His heart hardened and he considered himself to be an atheist.
His occupation as a professor gave him the opportunity to target young Christians to shake their faith and attempt to turn them from their beliefs …
One day, his world was rocked when he DIED to discover that death wasn't the end!  He was taken to the gates of hell and tormented horribly.  He was told that he was going in there and the torment would be much worse (which I can't even imagine).   You will have to listen to him to hear what he has to say about it all.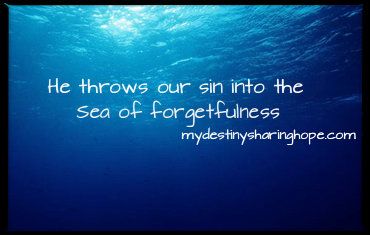 To watch that video, please go to this link:  http://www.daystar.com/ondemand/joni-hell-howard-storm-j922/#.T_4Ts3C6XPA or if you are reading this on my actual blog, you may just click on the link.
Today, Joni wrapped up her interview with Mr. Storm and he shared how Jesus came to rescue him.  It was beautiful!
One thing that stood out to me was that he died (for a short time) at the age of 38.  He had 38 years of his sin that he had to view with Jesus.  Even his thoughts were known.   He had to see so much because he had not repented of them (being an atheist).  As we know, once we repent of a sin and ask for God's forgiveness — the sin is erased.  Mr. Storm had never repented until the moment his eyes were opened.
Psalm 103:12
As far as the east is from the west,
So far has He removed our transgressions from us.

1 John 1:9
If we confess our sins, He is faithful and just to forgive us our sins and to cleanse us from all unrighteousness.

2 Chronicles 7:14
If My people who are called by My name will humble themselves, and pray and seek My face, and turn from their wicked ways, then I will hear from heaven, and will forgive their sin and heal their land.

Hebrews 8:12
For I will be merciful to their unrighteousness, and their sins and their lawless deeds I will remember no more.

Psalm 86:5
For You, Lord, are good, and ready to forgive,
And abundant in mercy to all those who call upon You.

Psalm 32:1
Blessed is he whose transgression is forgiven,
Whose sin is covered.
Unfortunately, today's show isn't on Joni's web site yet.  Perhaps by tonight or tomorrow it will be.  Here is the link:  http://www.daystar.com/shows/daystar-original-programs/jonilamb/joni-guest-guide/   (I am showing the link for those who are receiving this via email.)  Be sure to look for Howard Storm's interview on July 12th!  That is where he spoke with Jesus.   Those seeds planted as a young boy and the relationship he had with Jesus as a child were the open door for his escape from the torment.  God's love and mercy amaze me!
It truly excites me because it gives me just a touch and a glimpse of what my parents are seeing right now!  I am so excited for them even though selfishly I miss them.  Here is a cute picture my Aunt Jane sent me of my parents.  My Mom was almost 4 years older than I am right now in this photo.
I pray this post stirs up hope in your heart!
God loves you!